Jemima Khan, the former wife of Imran Khan, chairman of the Pakistan Tehreek-e-Insaf party, has disclosed that her London residence was recently targeted in an attempted break-in by unknown individuals. The incident occurred in the middle of the night, and the culprits remain unidentified. In a bid to find the suspects, Khan shared photographs of four men on her Twitter handle, requesting the public to come forward with any information that could help identify them.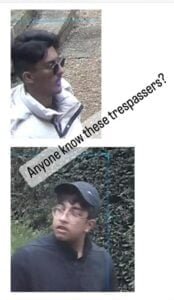 Khan immediately contacted the police after discovering the break-in attempt, and they arrived at the scene to file a report. Although the incident was caught on camera, it is uncertain whether the men in the pictures shared on social media were the same ones involved in the break-in. This is not the first time that Khan has been subjected to such incidents, emphasizing the significance of taking necessary measures to protect oneself and one's property, as well as reporting any suspicious activities to the authorities.
The safety and security of individuals and their assets are of utmost importance, and it is essential to take adequate precautions to prevent such incidents. Any suspicious activities or attempted break-ins must be immediately reported to the authorities to prevent such occurrences in the future. The incident highlights the importance of safety measures and the need for individuals to be vigilant at all times.