What:  Dubai stands as the quintessential beach holiday destination. Nestled along the shores of the Arabian Gulf, this vibrant metropolis offers a seamless fusion of sun-soaked beaches and indulgence. Palm Jumeirah, an iconic man-made island shaped like a palm tree, boasts some of the world's most stunning beachfront resorts, inviting visitors to unwind in opulent surroundings. The pristine white sands stretch endlessly, inviting leisurely strolls and sun-kissed relaxation. Adventurous souls can partake in thrilling watersports, from jet skiing to parasailing, while those seeking tranquillity can retreat to exclusive beach clubs offering private cabanas and rejuvenating spa treatments. With its warm year-round climate, Dubai immerses beach enthusiasts in a paradise of azure waters, sunshine, and unforgettable seaside experiences.
Stay:
This laid-back hotel is situated within walking distance from the cool Palm West Beach, and offers chill-seekers a choice of four swimming pools and a dedicated private beach. The large, comfortable rooms provide stunning vistas of either the splendid Palm Jumeirah or cityscapes of the glittering Dubai Marina. Following a long day at the beach, guests can choose from an array of decadent dining options, from MICHELIN recommended Indian delicacies at Little Miss India, to poolside bites at Blowfish, fresh flavours at the Seagrill Bistro, meat-feasts at the Brazilian inspired Frevo and all-day dining options at Flow Kitchen. Those looking to truly unwind can head to the Willow Stream Spa, which offers an array of holistic wellness treatments inspired by Asian and European techniques, allowing guests to nourish the mind, body and soul.
Beach/pool day:
Situated within Jumeirah Al Naseem, this chilled beach club is the quintessential spot for guests looking to unwind in style. Visitors can kick back with epic views of the iconic Burj Al Arab whilst indulging in delectable Japanese-South American fusion cuisine. The chilled destination is adorned with stunning blue and white interiors throughout and a long-stretched palm tree lined swimming pool.
Eat:
Fish Beach Taverna
This charming Aegean inspired eatery is an ideal spot for laid-back holidaymakers, with its light and airy bohemian-style décor and fresh, Mediterranean cuisine. The menu comprises a host of fish dishes, included a catch of the day which is cooked-to-order and a series of Greek favourites from Moussaka to calamari, dips, salads and more. The restaurant looks over the stunning Marina beach for the perfect picturesque dinner setting.
Experience:
SUP Yoga at The Westin, Dubai Marina
To complete a truly chilled beach holiday in Dubai, visitors can opt to test their balance and perseverance with paddleboard yoga at The Westin, Dubai Marina. SUP Yoga will leave guests feeling both relaxed and accomplished through this engaging experience.
Stay:
Located just minutes away from the iconic Burj Al Arab, this striking hotel is a great spot for families seeking fun in the sun. The destination boasts 12 restaurants including French brasserie Bastion, British cuisine at Dhow & Anchor, healthy dishes at Fika and many more. Ideal for families, the hotel is situated on a long stretch of private beach, with five full sized swimming pools, unlimited access to Wild Wadi Waterpark and a host of family friendly activities including a kids club.
Beach/pool day: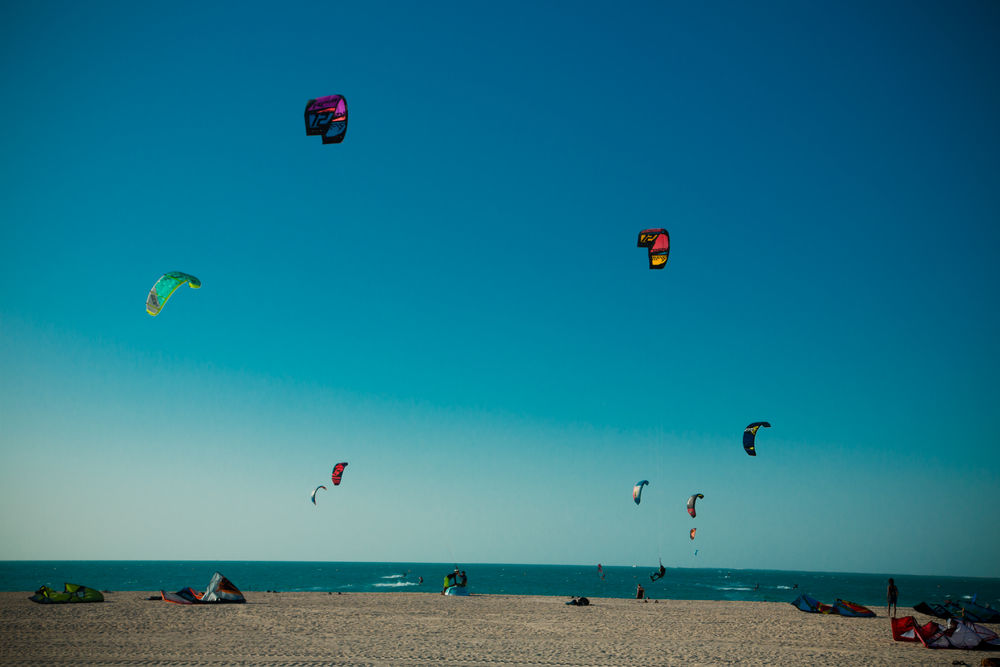 Kite Beach is one of Dubai's most popular and vibrant beaches, with an array of activities, eats, attractions and more. The beach is adorned with a host of quirky cafes and standalone food trucks, such as the popular SALT pop-up and Circle Café. Families can inject an element of healthy competition into their trip at this destination with a series of activities available from beach tennis to volleyball, as well as a number of watersports.
Eat:
This super chic, laid back destination is a fun and colourful spot for families to enjoy a beachside lunch looking over the Arabian Gulf. With Gaudí-esque interiors, kids will marvel and the sea of colours lining the insides of this spot, while parents indulge in the Greek-Spanish fusion cuisine. Dishes include croquetas, boquerones and pintxos, as well as a series of Greek dips and a lavish fish counter. Little ones can enjoy a dip in the sea and playing on the beach alongside this stunning seaside eatery.
Experience:
JBR Beach is home to a host of captivating and thrilling activities from the whole family. Big and small kids can enjoy adventures ranging from holding tight on a banana boat, to jet skiing, paddle boarding, parasailing, wake boarding and much more.
Romantic beach escapes
Stay:
Tucked away in Al Sufouh, surrounded by palm trees and lush gardens, the One&Only Royal Mirage is an intimate destination for a secluded beach escape in Dubai. The resort is home to four temperature controlled pools, luxurious rooms and suites and a spa renowned for its hammam treatments. The Arabian inspired resort also houses numerous restaurants including modern Asian dining at Eauzone, French classics at Celebrities and progressive Indian fine dining at Tresind.  DRIFT Beach Club, one of Dubai's chicest and most popular beach clubs, can also be found at the One&Only.
Beach/pool day:
This bohemian Greek beach club and restaurant combines authentic Mediterranean cuisine with a refined beach club experience. Situated on the buzzing Palm West Beach and overlooking the sparkling Dubai skyline, this is the ideal spot for couples to unwind in the sun together. The restaurant boasts a number of signature dishes, including taramasalata, tyrokafteri, truffled seabream, feta loukoums and moussaka.
Eat:
Perched on the shores of the Four Seasons Resort's private beach, this MICHELIN recommended fine dining spot is a wonderful destination for couples to enjoy a romantic meal on by the beach. Sea Fu serves up Asian-inspired fresh seafood complemented by stunning views, and is known for the delicious grilled sea bass, fresh sushi and stylish atmosphere.
Beach fun with friends
Stay:
Caesars Palace, situated on Bluewaters Island, is a modern and trendy hotel ideal for groups to enjoy a beach vacation together. Each of the 194 spacious rooms and suites comes with stunning beach views. The hotel is also home to a number of lively restaurants, including Gordon Ramsay's Hell's Kitchen, Havana Social Club, Chef Alvin Leung's Demon Duck and many more. Friends can enjoy a spa day at the hotel's Qua Spa, which offers an array of specialist treatments including a Quartz bed, which utilises hot sand therapy to cleanse the mind and body.
Beach/pool day:
This stylish beach club is a must visit for groups of friends in Dubai, with its lively atmosphere and indulgent Greek cuisine. Visitors can stay here from day to night, enjoying live music and entertainment and mixing among the glamorous crowd.
Eat: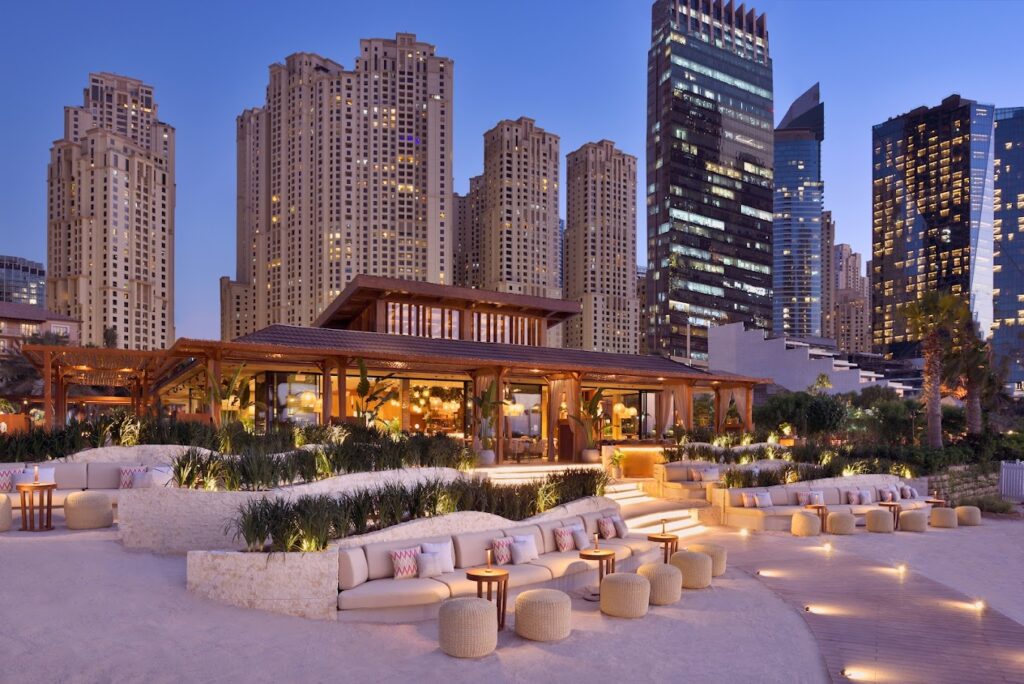 Situated right on the beach of The Ritz-Carlton, Dubai, Tamoka is an ideal spot to soak up the stunning views of the Arabian Gulf and glittering Dubai skyline. The menu is inspired by both South American and Caribbean cuisine, with favourite dishes including fresh oysters with Scotch bonnet salsa, fried plantain with coriander chutney, sticky beef short rib with tamarind sauce, Caribbean cake and more.
Experience:  
Groups can experience the epitome of seaside bliss with a yacht day in Dubai. Cruise along the sparkling coastline, bask in the warm sun, and take in breathtaking views of the city's iconic skyline, making it an unforgettable way to enjoy the beauty of the Arabian Sea.