In a recent address at a workers' convention in Kasur, Pakistan Muslim League-Nawaz (PML-N) Senior Vice President Maryam Nawaz warned Chief Justice of Pakistan (CJP) Umar Ata Bandial against taking cues from Pakistan Tehreek-e-Insaf (PTI) Chairman Imran Khan. Maryam accused Imran of humiliating his "facilitators" after using them and cautioned the CJP against facilitating Imran's political agenda. She also accused the CJP of forming benches with partisan judges in political cases, raising questions about their integrity.
Maryam accused Imran of benefiting from decisions made by the judiciary, even when they violate the Constitution, and questioned why he had not been punished for such violations. She called for an investigation into the overturning of Hamza Sharif's government and the change from a four to three majority to a two to the three-minority decision in the provincial election case, claiming that such actions were fraudulent.
Maryam also accused SC judge Mazahar Ali Akbar Naqvi and former justice Shaukat Saddiqui of facilitating Imran Khan and claimed that their corruption cases were awaiting trial at the Supreme Judicial Council.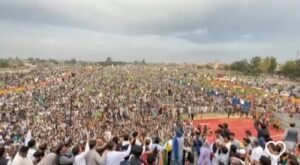 Maryam's address raises questions about the neutrality of the judiciary and its role in supporting political agendas. It also highlights the ongoing political tensions between the PML-N and the PTI. As Pakistan prepares for elections, the allegations made by Maryam are likely to contribute to further political polarization and may impact the legitimacy of the election outcomes.