Karachi-born Erica Robin has captivated audiences at the 72nd edition of the Miss Universe pageant hosted by El Salvador. The first-ever Miss Universe Pakistan left an indelible mark, securing a coveted spot among the top 20 contestants from over 80 participating countries. While she didn't advance to the top 10, Erica's enchanting charisma and glamorous ensembles showcased the rich cultural traditions of Pakistan.
As the world eagerly awaits Erica's future achievements, the spotlight on this trailblazing beauty intensifies. A recent feature by Harper's Bazaar Arabia delves into Erica's advocacy for diverse humanitarian causes, revealing her passionate involvement in an event for Down Syndrome Awareness Month as the newly crowned Miss Universe Pakistan.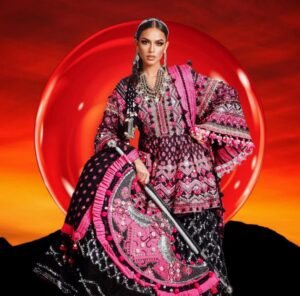 Beyond the glitz and glamour of the pageant, Erica has become an integral part of the Red Cross Family, aligning herself with the Red Cross Youth Philippines. Demonstrating her commitment to youth engagement, she spent a meaningful day listening to aspirations, fostering a connection filled with shared hopes and dreams for the future.
At the heart of Erica's journey is a celebration of Pakistan's diverse cultures, exemplified during the preliminary contest for Miss Universe, where contestants showcased their national costumes. Erica proudly flaunted a vibrant ensemble titled "Pehchaan" (individuality), embracing her personal and cultural identity.
Why no one is talking about her. Erika Robin
How gracefully she presented Pakistan in Miss Universe. and look at her dress in swim suit round. ,that scared people the most.. that white Kaftan… and how confident she is. <3#MissUniverse2023 #misspakistan #EricaRobin pic.twitter.com/PEShuXueSg

— Tabinda Kaukab Gillani ✍️ (@TabindaG) November 18, 2023
Bazaar Arabia recognizes Erica's appreciation for nature, emphasizing the importance of taking a step back in today's fast-paced world. Erica shared the feature on her Instagram account, expressing gratitude to the style magazine in the caption.
The presence of a Pakistani woman on the international stage has garnered unprecedented attention in the country. Erica, cognizant of the responsibility on her shoulders, reassures, "I won't do anything that would harm the reputation of the country." In a previous interview with Voice of America, she conveyed her enthusiasm for the competition, stating that winning would bring immense joy, proudly declaring, "I belong to Pakistan."
As Erica Robin paves the way for future Pakistani contestants, her journey unfolds as a beacon of inspiration and pride. The world watches with anticipation, celebrating not only her beauty but also her commitment to making a positive impact on a global scale.