In a grand and extravagant affair, cricket sensation Shaheen Afridi tied the knot with Ansha Afridi in an intimate Nikkah ceremony earlier this year. The ongoing wedding festivities have taken social media by storm, with stunning pictures and videos from the lavish celebrations captivating audiences around the world.
The opulent Baraat event, held at Karachi's renowned Andalusian Banquets, was meticulously organized by the popular event management and design company, Ayra Events by Sana Bhatti. While front-view glimpses of the bride have been carefully guarded, the official photographer for the event, Fatima Tariq, and her team treated fans to a heartwarming picture on their Instagram account. The image, captured from a rear angle, featured the newly-wed couple alongside the legendary Shahid Afridi, with the former cricket captain proudly embracing his daughter and son-in-law.
Shahid Afridi, who has a massive following on Instagram, also shared the same picture with his 4.2 million followers. Accompanying the photograph was a touching verse dedicated to his daughter, translating to: "It seems just like yesterday that light came into my home, and now that same light is departing in front of my eyes. Your father's heart is drowning, but hope will come with the morning light."
Before the grand wedding ceremony, Shaheen and Ansha celebrated their Mayun and Mehndi events, although details of these pre-wedding festivities have yet to be unveiled. Fans were given a glimpse of the vibrant yellow-themed décor for the Mayun, beautifully curated by Ayra Events, through Fatima Tariq Photography's Instagram account. Additionally, Karachi-based beauty salon Furqans Salon shared a video of the radiant Ansha, dressed in a green-based, fully floral ensemble, ready for her Mehndi event.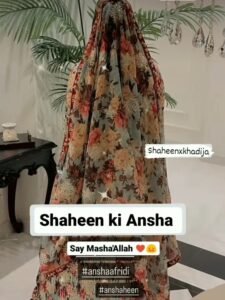 For her Baraat, Ansha chose a timeless red bridal outfit, adorned with exquisite embellishments by Republic Women's Wear. Meanwhile, Shaheen looked dashing in a champagne-gold prince coat elegantly paired with an ivory kurta-trouser set.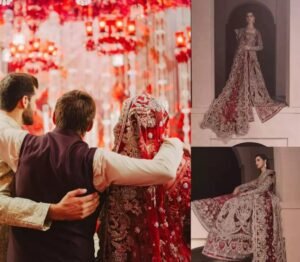 The star-studded wedding was graced by Babar Azam, the current captain of the Pakistan national cricket team, alongside several other prominent personalities and Pakistani celebrities.
Renowned broadcaster Sawera Pasha was spotted alongside Shaista Lodhi and Javeria Saud, adding to the glitz and glamour of the event. Pakistani megastars Humayun Saeed, Adnan Siddiqui, and Fahad Mustafa also made their presence felt, while actors Aijaz Aslam and Junaid Khan indulged in capturing memorable selfies and photographs with the newlyweds.
The wedding of Shaheen Afridi and Ansha Afridi has been a spectacular and star-studded affair, capturing the hearts and attention of people worldwide. The couple's commitment and love have been celebrated in a grand ceremony that will be remembered for years to come.