Celebrations and joy abound as Minal Khan and Ahsan Mohsin Ikram, a beloved celebrity couple, welcome their first child, Hasan Ahsan Ikram. The journey from courtship to marriage, and now parenthood, has been nothing short of a fairy tale for this charming couple. Months ago, they delighted their fans with the news of Minal's pregnancy through a heartwarming photoshoot, and now their bundle of joy has finally arrived. As they bask in the happiness of becoming parents, their families have come together to celebrate this new chapter in their lives.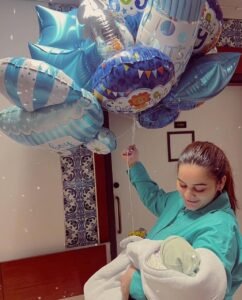 Ahsan Mohsin Ikram, the proud father, couldn't contain his emotions as he held his newborn son for the first time. This precious moment was generously shared with the world, giving us all a glimpse into the immense joy and love that fills their hearts. It's not just the immediate family celebrating; it's also an occasion of pride for Aiman Khan, who is now a proud khala (aunt). The family's support and love for the newest member have been evident from the very beginning.
The joyous occasion was marked by a heartwarming family gathering, as Minal Khan's mother, her brothers, and her brother's fiancée joined in welcoming baby Hasan. It's a testament to the unbreakable bonds of family and the shared excitement that a new baby brings. The first meeting between family members and the baby was filled with smiles, laughter, and a sense of pure contentment.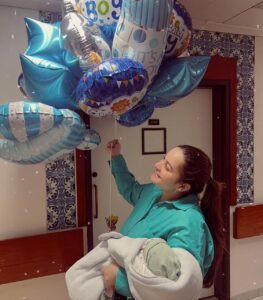 The family's first meeting with baby Hasan was a cherished moment that was beautifully captured in photographs. Ahsan Mohsin Ikram, in particular, seemed to be in awe as he held his son for the first time. His emotions were palpable, and it was evident that this precious bundle of joy had brought immeasurable happiness into their lives.
Aiman Khan, the doting khala, was brimming with excitement and shared her love for the newest addition to their family. The warmth and affection that she and the entire family showered on the baby was heartening to witness.
The family's joy and love were not only evident in their smiles but also in their eyes. As they gathered around to greet and hold baby Hasan, it was clear that this new chapter in their lives was off to a heartwarming and beautiful start.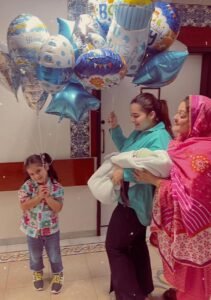 Minal Khan and Ahsan Mohsin Ikram have taken the first steps on their journey of parenthood, and it's bound to be a remarkable one. As they navigate the joys and challenges of raising their son, they have the unwavering support of their families, making this new phase in their lives even more special.
The couple has always been open about their love and relationship, sharing their precious moments with their fans and well-wishers. Their decision to share the first meeting of their families with baby Hasan is another testament to the love and warmth that surrounds them.
As they embrace this beautiful journey of parenthood, the fans and followers of Minal Khan and Ahsan Mohsin Ikram eagerly await more glimpses of their lives with baby Hasan. It's a journey that promises to be filled with love, laughter, and unforgettable memories.
The arrival of a child is a momentous occasion in any family, and when it's a celebrity couple, the joy is often shared by countless well-wishers. Hasan Ahsan Ikram's first family meeting was a heartwarming event that touched the hearts of many.