In a sensational display of batting prowess, Pakistan's Test cricket team created history during the second Test against Sri Lanka in Colombo. Following an exceptional performance by their bowlers, who successfully dismissed the Sri Lankan side in just two sessions on the first day of the Test, Pakistan's batsmen took center stage and accomplished an extraordinary feat in the team's Test cricket history.
The Pakistani batsmen wasted no time asserting their dominance, reaching a breathtaking 100 runs in an astonishing 16.4 overs. This remarkable achievement marked the fastest team century in the first innings of a Test match for Pakistan in the 21st century. The aggressive and attacking cricket display left cricket enthusiasts worldwide in awe and added an extra layer of excitement to the highly anticipated Test series.
Although the team encountered an early setback with the dismissal of Imam ul Haq when the score was at 13, Abdullah Shafique and Shan Masood stepped up to the challenge, maintaining an aggressive run rate of above six runs per over. Undeterred by the early wicket, Shafique displayed exceptional batting skills, reaching his half-century in a mere 49 balls. Similarly, Masood proved to be a force to be reckoned with, showcasing a strike rate of above 100 and completing his fifty in just 44 balls. Their dynamic partnership further solidified Pakistan's commanding position in the match.
The duo's partnership flourished, reaching the impressive milestone of a century stand in just 103 balls, a first in Test cricket for Shan and Shafique. Their cohesive and fearless approach to batting left the opposition bewildered and struggling to find answers to their relentless onslaught.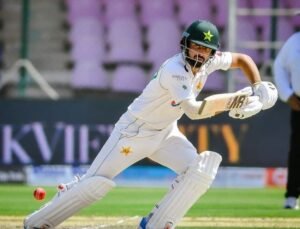 This record-breaking performance by Pakistan's Test cricket team is a testament to their ever-evolving style of play, adapting to the demands of modern cricket while staying true to the essence of the traditional format. The aggressive and fearless approach demonstrated by the batsmen not only shattered records but also served as a source of inspiration for aspiring cricketers and filled the nation with immense pride.
As the series continued, the cricketing world eagerly awaited to see if Pakistan could maintain its momentum and dominance in the series, building on its exceptional start in the second Test.
Pakistan's Test cricket team etched its name in history by achieving the fastest team century in the first innings of a Test match. The remarkable batting display by Abdullah Shafique and Shan Masood, culminating in their century partnership, added a new chapter to Pakistan's Test cricket history. This extraordinary accomplishment will be celebrated and remembered for years to come, inspiring generations of cricket enthusiasts and cementing Pakistan's legacy in the annals of Test cricket.