Mahira Khan, the renowned Pakistani actress, has once again captured hearts as she unveiled her exquisite bridal look, marking her second marriage. The star's nuptials to her long-term beau, Salim Karim, have been the talk of the town, and her bridal appearance has only added to the buzz.
A Glimpse of Radiant Beauty:
In an Instagram post that quickly went viral, Mahira Khan's bridal look was showcased in all its glory. The actress donned a resplendent white ensemble that radiated pure elegance. While her face remained partially veiled, her captivating beauty shone through. It was a moment of sheer grace and sophistication, leaving fans and well-wishers in awe.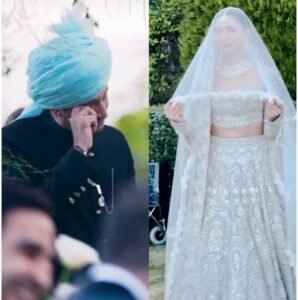 The Enigmatic Wedding Location:
Mahira Khan and Salim Karim's wedding took place at a picturesque hill station in Pakistan's Punjab region, providing a dreamy backdrop to their special day. While the exact venue remains a closely guarded secret, the serene hill station undoubtedly added to the magic and grandeur of the celebration.
A Tale of Love and Second Chances:
This wedding marks Mahira Khan's second journey down the aisle, following her previous marriage to Ali Askari in 2007. The couple welcomed a son named Azlan during their union. However, their marriage ultimately concluded in 2015. Mahira's decision to embrace love once more with Salim Karim is a testament to the resilience of the human spirit and the beauty of second chances.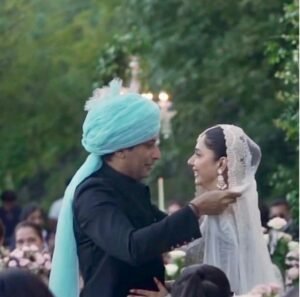 A Love Kept Private:
Mahira Khan and Salim Karim's relationship had remained largely private, shielded from the prying eyes of the media. Despite being in a committed relationship for several years, the couple chose to cherish their love in a more intimate setting. They were occasionally spotted together at various events and in photos with friends, but their love story largely unfolded behind closed doors.
Anticipation Builds:
As Mahira Khan's bridal look was unveiled, it ignited immense excitement among fans. They are eagerly awaiting more glimpses of the radiant bride and the romantic moments captured during the wedding. Mahira's wedding has not only been a celebration of love but also an inspiration for those who believe in love's enduring power.
Mahira Khan's bridal look has left an indelible mark on the hearts of her fans and admirers. Her journey towards love's embrace for the second time is a testament to the beauty of new beginnings and the allure of a love that knows no bounds. As we eagerly await more details from this enchanting wedding, one thing is certain: Mahira Khan's bridal look has set a standard for elegance and grace that will be remembered for years to come.