Ali Rehman is a name that has become synonymous with food exploration and professional food photography in Lahore, Pakistan. He is a co-founder of Tarkaa, a food and restaurant marketing agency, and has been associated with international education for the past two decades. With his passion for food and photography, Ali has made a significant contribution to the food industry in Pakistan, promoting local vendors and helping them increase their sales.
Ali's journey in the food industry began after he completed his education from REDC – LUMS , Market Research Society UK, and Islamia College Civil Lines. He then worked for organizations such as the British Council Pakistan and the University of Hertfordshire UK before serving as Regional Director for Navitas, the world leader in international education. Ali has also won several awards for his food photography, including the Twenty-Fifth Foodelia Collection for 'Foodelia US in 2017 – The International Food Photography Awards.'
Despite his success in the education industry, Ali's love for food and photography never faded. He began exploring local street foods, discovering new dishes and promoting them on his social media platforms. His discoveries caught the attention of local vendors, who began to seek his support and recognition. Ali realized that he could use his knowledge of marketing and management to help small businesses and local vendors increase their sales and get the recognition they deserve.
Ali's work has not only helped small businesses and local vendors, but it has also contributed to the food culture of Lahore. His discovery and promotion of 'Warra Pao,' an Indian street food, in Lahore led to a 'Warra Pao Revolution' in Pakistan. This dish has now become a part of local restaurant and street food menus, making it accessible to a wider audience.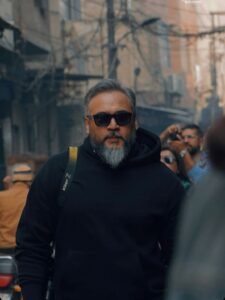 Ali's professional food photography has also played a significant role in the food industry of Lahore. He has done photography for dozens of restaurants in Lahore, as well as for brands such as Nestle, Pearl Continental. His photography captures the essence of food, making it look delicious and tempting.
Ali's recent work helping a small Momos/Mantu Cart generate sustainable profits of PKR 180,000 per month is a testament to his dedication to supporting small vendors. His support has helped these vendors increase their sales and generate sustainable profits, which is essential for the growth and success of small businesses.
Ali Rehman's contribution to the food industry of Lahore is remarkable. His love for food and photography has led him to explore new dishes, promote local vendors, and help small businesses increase their sales. His work has not only contributed to the food culture of Lahore but has also helped small businesses and vendors grow and succeed.