This Content Is Only For Subscribers
Please subscribe to unlock this content. Enter your email to get access.
In the heart of Gaza, a place marred by war and suffering, we bear witness to the loss of not just journalists, but the very essence of humanity. It is with a heavy heart that we remember Roshdi Sarraj, a dedicated journalist, a mentor, and a friend who was taken from us by the brutal hand of violence. This is a story that needs to be told, for it is a testament to the courage and resilience of journalists in one of the world's most tumultuous regions.
Roshdi Sarraj was not merely a statistic or a byline in the news; he was a 31-year-old father with dreams and aspirations like any of us. In 2008, Roshdi Sarraj and his dear friend, Yasser Murtaja, embarked on a journey fueled by their passion for photography and filmmaking. Together, they founded Ayn Media in 2012, initially aspiring to create films and documentaries that would showcase the vibrant life and hope that persist in Gaza despite the adversities. However, their mission took an unexpected turn as the grim realities of the Palestinian situation demanded a different role for them – that of journalists bearing witness to the unending atrocities committed against their people.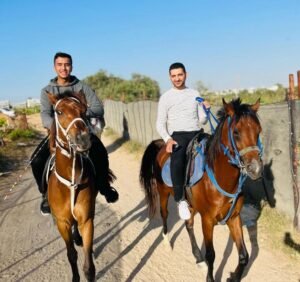 Tragedy struck in 2018 when Yasser Murtaja, also 31 years old, was killed by Israeli forces while clearly marked as a journalist covering the Great March of Return protest. The loss of his best friend deeply affected Roshdi Sarraj, but it also ignited an unwavering determination within him. Roshdi Sarraj resolved to carry on Yasser's message to the world and continue his shared dream. He expanded Ayn Media, making it an international organization and collaborating with journalists from around the globe.
Roshdi Sarraj's indomitable spirit led him to document every aggression on Gaza since 2012, having lived through six such incursions. The harsh realities of life in Gaza only fueled his commitment to telling the world what was happening, in honor of Yasser, Ibrahim Lafi, and countless other journalists who paid the ultimate price.
Roshdi Sarraj's story is a testament to the love he held for Gaza, his homeland. Despite having opportunities to leave, he chose to stay and make a difference by shedding light on the realities of his people. He was not just a journalist; he was a father, a friend, and a man with dreams. His 11-month-old daughter, Dania, will grow up without her father, a void that can never be truly filled.
Today, we must reflect on the dangers faced by journalists like Roshdi Sarraj. They put their lives on the line to document the harsh realities of life in Gaza. Israel's targeting of journalists, the bombing of their homes, and the killing of their families are attempts to silence the voices that speak the truth. The international community must recognize the immense threats faced by journalists and condemn these actions.
For Yasser, Ibrahim, Roshdi Sarraj, and all journalists who have lost their lives, it is imperative that we amplify their voices and bring their stories to the forefront. They are the brave individuals who bear witness to the unending struggles faced by the people of Gaza. We must remember their sacrifices, honor their memory, and continue their mission to reveal the truth to the world.