HIDDEN GEMS IN DUBAI
BACKGROUND
What:  Dubai is a city full of hidden gems and treasures waiting to be discovered. Away from the glitzy shopping malls and beach resorts, visitors can explore the winding alleyways of traditional neighbourhoods or browse through lively souks with vibrant colours and delightful scents. Guests can stumble upon charming tucked away eateries, find peace in a secluded park or come across hidden art galleries showcasing local talent.
WILDLIFE, NATURE AND THE GREAT OUTDOORS
Ras Al Khor Wildlife Sanctuary
Just a short drive from the hustle and bustle of the city, visitors can explore Ras Al Khor Wildlife Sanctuary, which is home to tens of thousands of majestic birds and wildlife including grey herons, great egrets, reef herons, cormorants and more. The expansive reserve counts crustaceans, mammals and fish amongst its inhabitants but the stunning flamingos are the main draw for visitors. With a sea of pink feathers set to the backdrop of the Dubai skyline, this is a magical destination to see within the city. The sanctuary is fenced off to safeguard the area, however there are three bird hides from which to watch the displays of migratory and resident birds.  Entry to the hides is free.
Umm Suqeim Beach is an ideal spot for sun worshippers and beach lovers alike and a lesser known spot to soak up views of the Dubai skyline from the sandy shores. Visitors can gaze upon the iconic Burj Al Arab whilst enjoying the laid-back beach vibes, or head to the beach library, lounge on beanbags, visit the trendy cafes or use the beachside jogging track.
Families can immerse themselves in nature and adventure at Aventura in Mushrif Park. The destination has a host of activities for fun seekers young and old, with high rope courses, obstacle courses, ranger circuits and more. The more daring explorer can try out the 25m Tarzan jump and 160m long zip-line which weaves across the park.
Dubai boasts a number of cycling paths old and new. Some of these paths have been converted from former camel tracks, adding a touch of history to the cycling experience. With year-round sunshine, stunning sunsets and unique pathways, Dubai provides an excellent environment for avid cyclists. One notable addition to Dubai's cycling infrastructure is the 50km mountain bike trail located in Mushrif Park, which is surrounded by more than 70,000 trees. Additionally, cycling enthusiasts can enjoy the rugged uphill paths in Hatta, picturesque views along the Al Qudra Cycle track and scenic vistas of Jumeirah Beach.
ART & CULTURE:
Cuadro Fine Art Gallery is a hidden gem for arts and culture lovers in Dubai International Financial Centre. With curated exhibitions, an education programme, artist residencies, and art consultation services, Cuadro is a dynamic hub for contemporary and modern art.
Located in artistic Alserkal Avenue, Zerzura Rare Books offers a carefully curated selection of handpicked, rare and unusual books for all budgets and preferences. The store offers an array of coveted first editions, as well as modern and contemporary reads.
Alserkal Avenue, nestled in the heart of Dubai's warehouse district, is a true hidden gem that captures the essence of creativity and innovation. It is a space where avant-garde art installations seamlessly blend with unique and independent businesses. With its ever-changing landscape of artistic endeavours and a vibrant line-up of events, ranging from captivating arts festivals to invigorating outdoor fitness activities, Alserkal Avenue remains a dynamic and spirited hub that exudes a palpable energy throughout the year. Some of the most exciting spots in Alserkal Avenue include Tashkeel art gallery and The Third Line for art, Oo La Lab for perfume making, Nightjar for coffee, Cinema Akil for independent movies and Shimis for yoga to name a few.
The Waterfront Market is a foodie's paradise located in the bustling Deira area. Guests can browse the market's colourful displays of spices, fruit, vegetables, nuts, confectionary and fresh seafood including locally caught lobster, oysters, kingfish, and more.  Guests feeling peckish can select fresh seafood of their choice and have the surrounding restaurants dish it up for them.
QUIRKY EATS AND HIDDEN GEMS: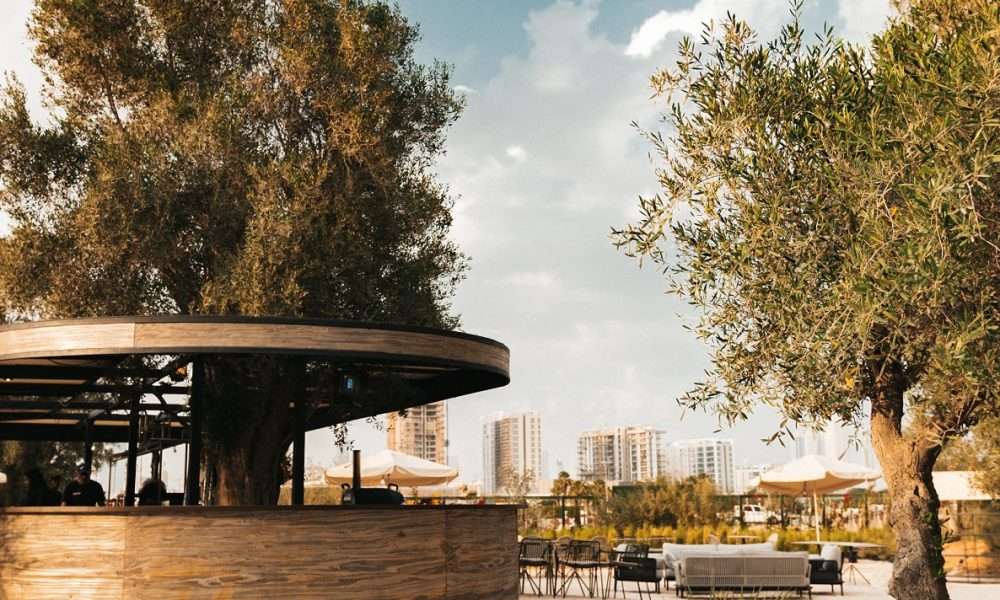 Parker's, Museum of the Future
Perched underneath one of the city's most iconic landmarks, Museum of the Future, Parker's serves up hearty breakfast dishes, indulgent desserts and more. The restaurant is famed for its popular feta shakshuka, royal benedict, avocado toast and strawberry & cream French toast, served al fresco beneath the museum's arch.
Fiya is a barbeque style restaurant concept led by the first Arab pitmaster Hattem Mattar, providing guests with an alfresco dining experience. Diners can sit beneath the olive trees and enjoy slow smoked brisket, smashed picanha burgers, steaks grilled over an open flame and more.
Neighbourhood Food Hall
Located in Motor City, Neighbourhood Food Hall showcases homegrown Dubai brands and the unique stories behind them. Celebrating Dubai's multiculturalism through a range of cuisines from Sri Lankan to Singaporean and Mexican, the food hall is home to well-loved Dubai eateries such as High Joint for burgers, Maru Udon for noodles, The Meating Room for Indian grills, Crumb & Co for fresh donuts and more.  This is an ideal spot for visitors to explore a series of Dubai's hidden gems conveniently located under one roof.
Located opposite Alserkal Avenue, The Courtyard is home to a number of quirky cafes and shops. This destination houses homegrown gem Cassette which draws together art, music and great food, and serves up small dishes of French inspired comfort food within a relaxed ambience. For coffee and pastries, visitors can head to Boston Lane, which serves freshly brewed roasts alongside decadent sweet and savoury treats. Guests can also explore the Ripe Collective concept store for gifts or enjoy an afternoon of theatre at Courtyard Playhouse.
The streets of Dubai are dotted with cafeterias, which are popular with residents for a quick cup of tea or snack at wallet-friendly prices. Karak, a sweet milk tea flavoured with spices, is a particular favourite and can be found at cafeterias as well as dedicated karak cafes such as Karak House and Karak Inc.
STAYS:
Hotel Indigo Dubai Downtown is a boutique hotel nestled in the heart of Dubai. Its prime location offers easy access to the city's vibrant attractions, including Dubai Design District and Dubai Mall, both just a five minute drive away. The hotel immerses guests in a captivating blend of contemporary design and rich cultural influences, with modern artworks showcased throughout the hotel and its rooms. Each room is thoughtfully designed with carefully curated elements, such as lavish mother-of-pearl bathrooms and funky Moroso designer chairs. Guests can enjoy breathtaking views of the city's skyline while taking a refreshing dip in the 25-meter infinity pool or working up a sweat in the gym.
25hours Hotel, located within One Central, is a vibrant and contemporary hotel with an atmosphere that exudes style and energy, offering guests a range of modern amenities, including rooftop lounges, trendy restaurants, and immersive social spaces. Visitors to the hotel can enjoy British Indian fusion cuisine at Tandoor Tina, or opt for Bavarian flair at Erst.
This hidden gem is a former home which was transformed into a beautiful heritage hotel almost two decades ago and now offers 15 individually designed suites and rooms blending heritage and history.  Visitors can enjoy views of the hotel's three traditional wind towers, unwind in the shaded courtyards, or simply seek out a tranquil corner to escape the bustle of the city. A must visit is the adjoining XVA Gallery which represents both established and emerging artists from across the region.
Form Hotel, a design-centric hotel, is a hidden gem which blends technology into its hospitality offerings. From smart rooms equipped with advanced amenities to a seamless digital check-in process, Form Hotel embraces technology to provide a modern and streamlined experience for guests. This tech-forward approach enhances convenience aQnd efficiency, catering to the needs of tech-savvy travellers.