Renowned Pakistani designer, Ali Xeeshan, recently collaborated with Indian actress, Swara Bhasker, to design her wedding reception outfit in Bareilly. The dress was named Rajkumari and was hand-made, taking about a month to finalize. The outfit was 70% ready when Swara Bhasker placed her order, and Xeeshan's team had to bring their most senior artisans on board to complete it. Xeeshan emphasized that art has no boundaries and that people from both India and Pakistan share the same DNA. The cross-border collaboration highlights the power of art to bring people together and bridge divides.
In an interview, Xeeshan said that he has many clients from different religious backgrounds based in Canada and other parts of the world. He believes that cultural exchanges between Pakistan and India have been cut off due to political reasons but hopes that this will change soon. He thinks that the world has become smaller because of the internet and social media, and that art can be a way to unite people.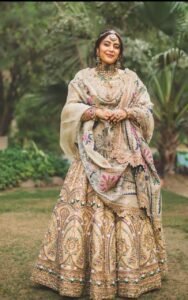 Swara Bhasker, who has acted in several Bollywood hits such as Raanjhanaa, Tanu Weds Manu, and Veere Di Wedding, tied the knot with Indian politician Fahad Ahmad last month. She expressed her gratitude to Xeeshan, saying that the designer had sent the dress all the way from Lahore to Bareilly via Dubai, Bombay, and New Delhi. Bhasker praised Xeeshan's talent and generosity, adding that they "connected" easily.
Xeeshan curated the outfit to reflect Swara  Bhasker's personality and hoped that it would become an heirloom piece. He believes that his collaboration with Swara Bhasker shows that art has no boundaries and that it can bring people together despite political divides. The dress, which had old-school charm and grandeur, was a testament to the power of art to transcend borders and unite people.
In a world where political tensions often create divides between countries, collaborations like this highlight the potential of art to bring people together. Xeeshan's collaboration with Bhasker is a reminder that art can bridge divides and foster understanding, even in the face of political tensions. As Xeeshan said, "art has no boundaries," and collaborations like this one are a testament to the truth of that statement.