Aishwarya Rai Bachchan, the celebrated Bollywood diva and brand ambassador of L'Oreal, stole the spotlight as she graced the stage alongside supermodel Kendall Jenner during the highly anticipated L'Oreal's Walk Your Worth show at Paris Fashion Week.
Aishwarya Rai, renowned for her grace and elegance, wowed the audience with her presence at this mega event. She dazzled in a heavily embellished gold gown paired with a matching cap, showcasing her timeless beauty and unmatched style.
During her mesmerizing ramp walk, the former Miss World charmed the audience with her radiant smile and even blew a heartfelt kiss, leaving the spectators in awe of her charisma.
Captured in numerous videos and photographs, Aishwarya Rai was seen enjoying the limelight on stage alongside global icons like Kendall Jenner, Eva Longoria, Camila Cabello, and Elle Fanning, among others. Their collective star power illuminated the Paris Fashion Week, making it an unforgettable spectacle.
On the other hand, Kendall Jenner, the 27-year-old supermodel, graced the event in an elegant silver gown, showcasing her slender and statuesque figure. Earlier during Paris Fashion Week, Kendall closed out the Spring/Summer 2024 womenswear shows for renowned designers Schiaparelli and Victoria Beckham.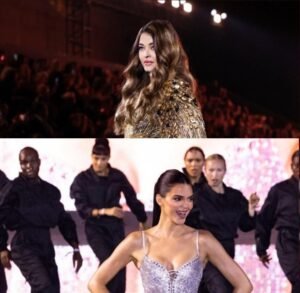 In addition to her remarkable fashion achievements, Kendall Jenner has been making headlines for her rumored relationship with the renowned rapper, Bad Bunny, adding an extra layer of intrigue to her already captivating persona.
This star-studded event at Paris Fashion Week not only showcased the latest in fashion and beauty but also celebrated the coming together of international icons from diverse backgrounds.