Ehtisham ul Qudoos, an Islamabad-based Pakistani content creator, has taken social media by storm with his ingenious twist on content creation. Adding a touch of Bollywood magic to his reels, Ehtisham has not only become a sensation in Pakistan but has also garnered a growing fanbase in India.
Ehtisham's reels are characterized by their unique blend of Pakistani content with a Bollywood tarka. Despite having no direct ties to the cinema industry, he skillfully weaves Bollywood elements into his videos. he infuses the vibrancy of Indian pop culture into his reels.
What sets Ehtisham apart is his ability to resonate with viewers on both sides of the border. His content strikes a chord with those who share an affinity for Bollywood's charm. Beyond entertainment, his reels serve as a cultural bridge, uniting people from Pakistan and India through a shared love for the cinematic nostalgia of Bollywood.
Ehtisham's reels serve as a reminder of the common cultural ground between Pakistan and India. His content subtly underscores the potential of art and entertainment to transcend boundaries, fostering connections that go beyond geopolitical differences.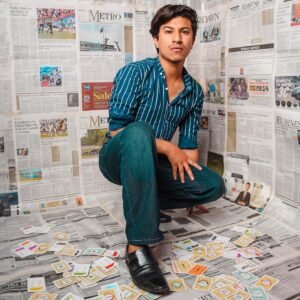 Ehtisham ul Qudoos's journey extends beyond mere online fame. By infusing his reels with Bollywood's allure, he not only entertains but also promotes the idea that cultural unity can be achieved through shared interests.
Ehtisham ul Qudoos's innovative approach to content creation has breathed new life into Pakistani reels. By sprinkling a bit of Bollywood flair into his videos, he has managed to resonate with audiences on both sides of the border. Ehtisham stands as a testament to the fact that creativity knows no limitations and can play a pivotal role in connecting people, despite the odds. Ehtisham ul Qudoos, the visionary content creator who adds a Bollywood twist to his Pakistani reels, has extended his creativity to the fashion realm with his clothing brand. With an eye for detail and a passion for unique style, Ehtisham's brand brings his distinctive creative flair to life, allowing his audience to embrace fashion that resonates with his cross-cultural charm.