Abid Saleem, born on June 3, 1969, in Karachi, Pakistan, is a renowned fashion and commercial photographer. He obtained his education from Karachi University, where he developed a deep passion for photography. His love for capturing moments led him to start his career as a photographer back in 1989, and since then, he has become one of the most sought-after photographers in the industry.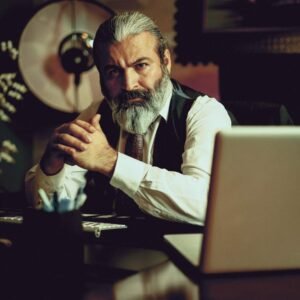 Abid's portfolio consists of a wide variety of projects, including fashion, commercial, and celebrity photoshoots. He has had the opportunity to work with some of the most famous personalities from Pakistan, as well as a few from India, such as Shahid Kapoor, Kareena Kapoor, Imran Hashmi, and Arjun Kapoor. His ability to capture the essence of these celebrities in his photographs has made him one of the most respected photographers in the industry.
Abid's style of photography is unique, and he has a talent for capturing candid moments that tell a story. His photographs often convey a sense of emotion and depth. Abid has been nominated for the Lux Style Awards three times, which is a testament to his skill and talent as a photographer. These nominations are a significant achievement, as they highlight the respect and recognition that he has garnered within the industry. It is also a clear indication of the high level of quality and creativity that Abid brings to every project he works on.
Apart from his work with celebrities, Abid has also been involved in several high-profile commercial campaigns for major brands in Pakistan. His work with these brands has helped to increase their visibility and reach, and his photographs have been used in advertising campaigns across various platforms.
Abid Saleem's success as a photographer is a result of his hard work, dedication, and passion for the art. He has a keen eye for detail and is always looking for new and creative ways to capture the beauty of his subjects. He is also known for his professionalism and his ability to work efficiently under pressure.
Abid Saleem is a gifted photographer who has made a name for himself in the fashion and commercial photography industry. He has worked with some of the biggest names in Pakistan and India, and his photographs continue to inspire and captivate audiences around the world. His passion for photography and his commitment to excellence are qualities that have helped him achieve the success he enjoys today.