Kim Petras is a German-born pop artist who has been making waves in the music industry with her unique sound and unapologetic approach to self-expression. Born and raised in Cologne, Germany, Petras showed a passion for music from a young age and quickly gained attention for her remarkable vocal abilities. With a distinctive blend of infectious pop hooks and edgy electronic elements, she has carved out her own space in the pop music landscape, captivating audiences worldwide.
United States, Saturday 24 June – Kim Petras, the innovative pop artist known for pushing boundaries, has unveiled her latest release, "Feed the Beast," inviting listeners on a mesmerizing journey into the realm of desire and unbridled intensity. With this daring track, Petras fearlessly delves into the complexities of power and passion, captivating audiences with her distinctive artistry and unwavering creativity.
"Feed the Beast" marks a notable departure from Petras's previous work, as she ventures into a darker and more experimental sonic landscape. The track's haunting melodies, accompanied by brooding synths, create an atmospheric backdrop that sets the stage for Petras's raw and commanding vocals. It is evident from the outset that "Feed the Beast" is a composition that demands attention and engages the senses on a profound level.
Lyrically, Petras fearlessly embraces the enigmatic allure of surrendering to one's primal instincts, delving into the depths of desire and power. With unwavering confidence, she explores the facets of her identity, declaring, "I'm a freak unleashed, got a beast inside" and "I wanna taste the danger on my lips." These provocative lyrics showcase Petras's unapologetic individuality and encourage listeners to embrace their own inner strength and passions.
In terms of production, "Feed the Beast" showcases a masterful blend of elements that intensify its emotional impact. The thunderous basslines and atmospheric electronic nuances complement Petras's unrelenting vocals, creating a palpable sense of urgency and anticipation. The result is a magnetic composition that captivates the listener and leaves a lasting impression.
Beyond the artistic merits of the track, "Feed the Beast" exemplifies Petras's commitment to self-expression and inclusivity. As an openly transgender artist, she serves as an inspiration to individuals from diverse backgrounds, encouraging self-acceptance and celebrating personal authenticity. Petras's unapologetic artistry fosters a sense of unity and empowers her ever-growing fan base, promoting an environment of acceptance and understanding.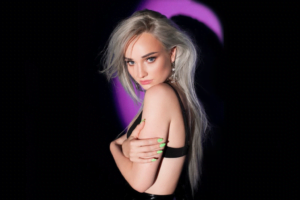 With "Feed the Beast," Kim Petras once again defies expectations and blazes a trail in the pop music landscape. Through her daring exploration of desire and power, she invites listeners to delve into the depths of their own emotions, provoking introspection and an appreciation for the complexities of the human experience. Petras's ability to craft an immersive sonic narrative solidifies her position as a respected and influential voice within the industry.
As listeners immerse themselves in the evocative energy of "Feed the Beast," they bear witness to Kim Petras's artistic evolution and eagerly anticipate the future directions she will explore. With her innate ability to captivate and connect, Petras continues to leave an indelible mark on the musical world, inspiring both fans and fellow artists to embrace their authentic selves and fearlessly traverse the boundaries of creative expression.