On the 11th death anniversary of his mother, Arjun Kapoor shared a heartfelt note on social media, expressing his love and gratitude towards her. He thanked her for always being there for him, providing him with unconditional love, and being his shield against the world.
Arjun's post was emotional and heart-wrenching as he poured his heart out about missing his mother's love and how it made him a better, happier, and calmer person. He expressed his feeling of being a lost child without her and how he looks for her everywhere.
The actor also shared a picture of himself as a child with his mother, who was hugging him and looking at him with love and affection. Arjun believed that his mother is still looking after him and that they will meet someday soon.
Arjun's cousin, Janhvi Kapoor, reacted to the post by commenting, "Love you, sir," showing her support and love for her cousin during this emotional time.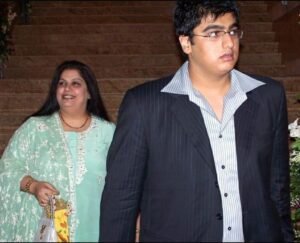 The post was an emotional reminder of the importance of family, love, and support. It highlighted the impact of a mother's love on a child's life, which can never be replaced. Arjun's tribute was a reminder to cherish and appreciate the people we love and hold dear, as we never know when we may lose them.
In conclusion, Arjun Kapoor's emotional tribute to his late mother was a touching reminder of the power of a mother's love and the importance of cherishing our loved ones. It was a beautiful tribute to his mother and a reminder to all of us to appreciate and love the people in our lives.