The Russia-Ukraine War is a ongoing conflict between Russia and Ukraine that began in 2014 following the Ukrainian Revolution and the ousting of Ukrainian President Yanukovych. The conflict has its roots in political, economic, and cultural differences between Russia and Ukraine, and has escalated into a military conflict in the Ukrainian region of Crimea, which was annexed by Russia in 2014.
The conflict has also spread to the Donbass region in Eastern Ukraine, where pro-Russian separatists have been fighting against Ukrainian government forces. The war has resulted in thousands of casualties and has had a significant impact on the region, including causing economic and political instability. The international community has condemned Russia's actions and imposed economic sanctions, while peace negotiations have been attempted through various mechanisms, including the Minsk agreements.
Pakistan's Foreign Minister Bilawal Bhutto Zardari visited Moscow and held a joint press conference with his Russian counterpart, Sergey Lavrov.
During the conference, Bilawal called for the resolution of the Ukraine conflict through diplomatic means, as it was affecting developing countries like Pakistan economically. He expressed hope that Russia's strong tradition of diplomacy would help achieve peace.
Bilawal also said that Pakistan considers Russia an important player in West, South and Central Asia and desired to boost cooperation with Russia in areas such as trade, security, counter- terrorism, education and people-to-people contacts.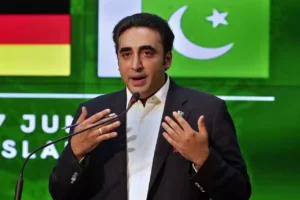 The two Foreign Ministers discussed bilateral cooperation and regional matters, including their good cooperation on Afghanistan and their shared goals of peace and stability in the war-torn country. Bilawal said that the current government is committed to addressing the country's energy needs and values cooperation with Russia, the US and Europe.
Lavrov confirmed Russia's satisfaction with its military cooperation with Pakistan and the two countries' regular military contacts, including joint exercises and training. He also condemned the terrorist attack in Peshawar mosque and called for global cooperation in fighting terrorism.
He confirmed that officials from both sides were discussing the resumption of direct flights. He also criticized the US and its western partners for their behavior towards Russia's energy ties.
Latest posts: